Your Perfect Wedding & Reception Venue - Montgomery County PA.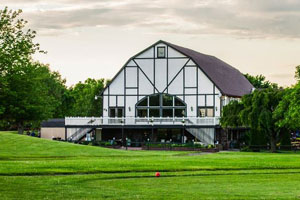 If you plan on getting married near the King of Prussia, in Western Montgomery County, Pennsylvania area, we pride ourselves in our versatility. Conveniently found on the borders of both Chester and Berks County, The Loft at Landis Creek is an ideal place to hold your wedding and reception. Historical grounds, with picturesque trees and lovely greens spanning across the countryside will be the perfect backdrop for your special day.

Our spacious loft banquet room with the cottage air about it will enhance your wedding reception and your guests will enjoy miles of scenery as they remember your wedding day for many years thereafter. Your guests will delight in our extraordinary surroundings. Because of its timeless elegance and unrivaled service, The Loft at Landis Creek has developed a reputation as one of the best places to have a wedding reception.
Seated Wedding Menu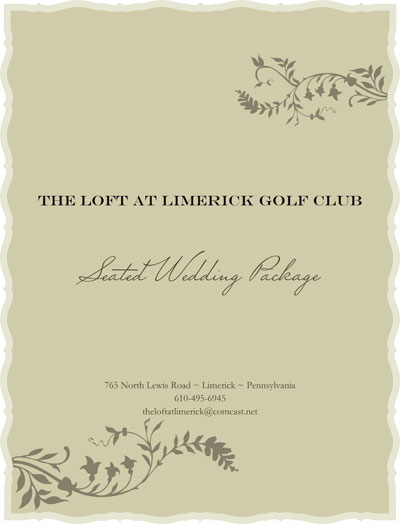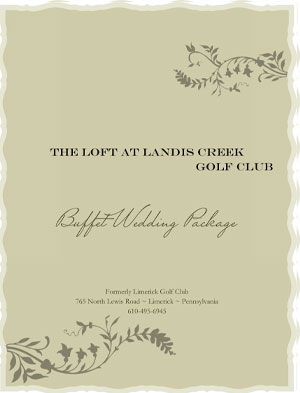 NEW Wedding BUFFET
The Loft at Landis Creek offers a variety of different wedding package options. Whether you prefer to have variety of stationed food options, or a formal sit down, we'll take your vision and make it a reality.

From start to finish, The Loft at Landis Creek makes every single detail "simply perfect." From the engagement celebrations to the bridal shower, we host all of the events leading up to your special day. Enjoy excellent, yet surprisingly affordable service

At The Loft at Landis Creek, we have a dedicated wedding reception event supervisor who will do everything she can to make your perfect wedding day even more perfect. All of our staff are trained to notice the little details and to attend to your guests in the most professional and courteous way. The Loft at Landis Creek has one of the finest mouthwatering menus to delight any palette. Make your wedding day complete with The Loft at Landis Creek!

Did you know that aside from having your wedding at our golf course, you can experience the entire event on our grounds? We host bridal showers and golf outing, also. Learn more about our many wedding reception services for Montgomery County PA:

We greatly look forward to meeting you and working together to make your wedding day simply perfect!

Contact: Event Coordinator, Jean Lutz
Main: 610.495.6945
Email: loftatlimerick@comcast.net
Fax: 610.495.5212


Two brand new hotels:
Staybridge Suites & Holiday Inn Express are a 1/2 mile and 2 miles close. Ask about partnership discounts with these facilities.